Getting to Know > Lover of Adashiko - Vanessa Bennett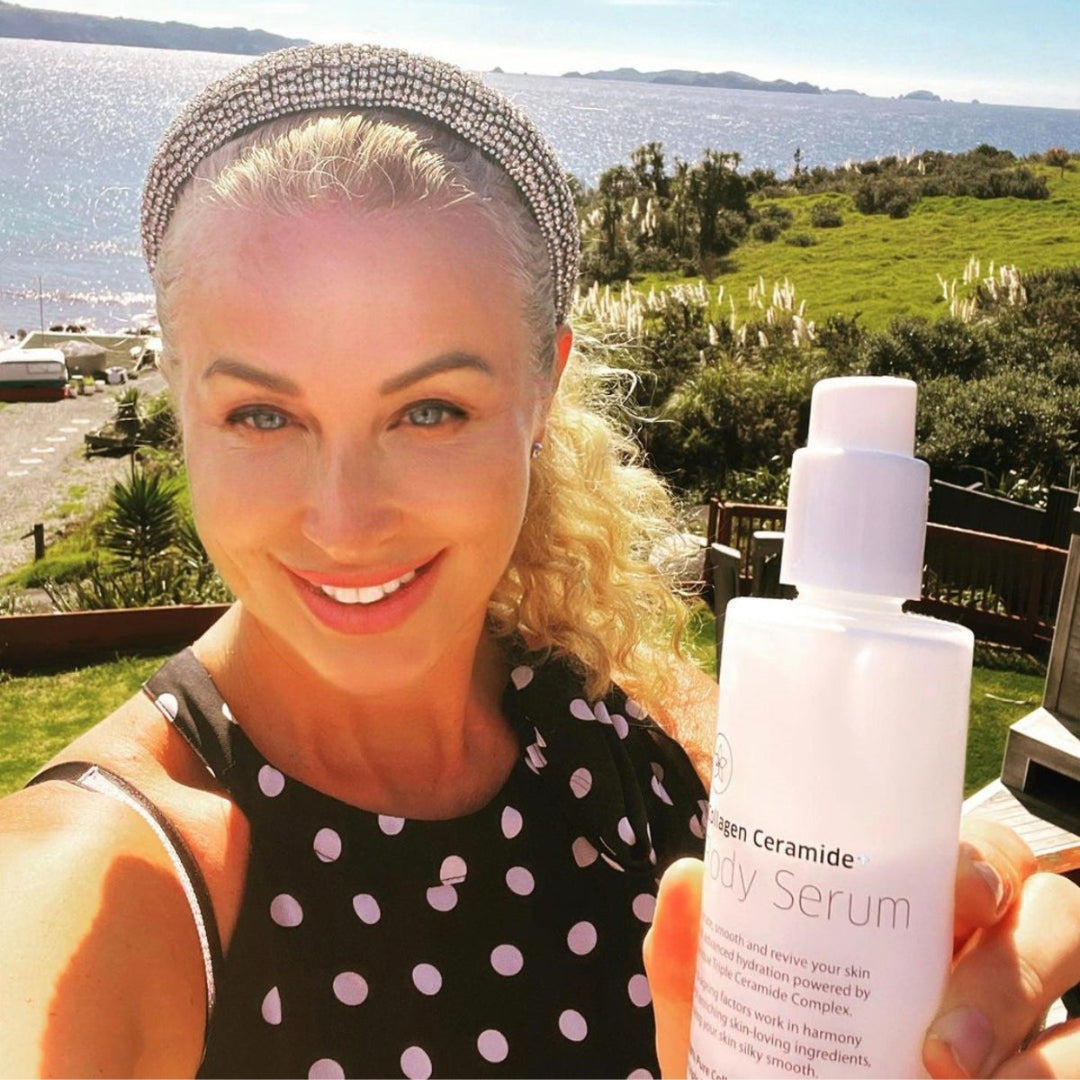 Editor of Multi Media Magazines + Founder / Director of Panic PR.NZ, Vanessa Bennett, learnt about inner health from a young age when her mother used to make her drink wheatgrass + eat bean sprouts + avocado sandwiches on Vogels!
She knows that what you put in your body makes all the difference to your attitude, your thoughts + how you look + feel. Focused + conscious of her interior feelings + moods, Vanessa tries to connect this to her conscious-self + be aware + mindful. 
Vanessa is a woman who is often on-the-go, but she values taking moments of meditation to stay balanced + is aware of what she puts in her body + only puts in what makes her feel good.
Around 3 years ago one of Vanessa's friends started using Adashiko + her hair kept getting stronger, longer + shinier + she thought she needed to try it for herself ~  surely it's not that good!?! Today Adashiko fits beautifully into her own lifestyle to support her health + beauty from the inside out.
Pour yourself your drink of choice + take 5 minutes with us.  Read our Q+A with Vanessa where she touches on her increased hair growth, the health of her skin + joint support, daily rituals, what health + beauty means to her + what brings her inner peace.
This is the 8th piece in our series > Getting to Know the Lovers of Adashiko. We hope you enjoy the read as much as we loved the chat.
Current role: Editor
Star Sign: Gemini
Age: 50
Must-have Adashiko Collagen + Skincare: I can't live without Adashiko Joint Collagen, when I turned 47 my joints started to ache a lot + the joint collagen has really helped. I travel a lot for work + the Collagen + Noni Gel is amazing, it's so hydrating + soaks in fast leaving your skin feeling beautiful + soft + non-greasy + hydrated all day. I always moisturise my whole body with the Collagen Ceramide+ Body Serum ~ this is a hero product + probably the best moisturiser I have used in my life.
What benefits have you noticed since using / taking Adashiko? Firstly my hair, it just grows + grows + is strong + healthy! When I started using Adashiko my hair was dry + brittle + would often break + now it's shiny, silky + feels healthy. Secondly my skin ~ my skin feels stronger + more plumped + thirdly, my joints don't ache anymore which is such a massive relief.
Aside from Adashiko, what can't-live-without products might we find in your bathroom / kitchen: Aloe Vera juice is always in my fridge + I start the day with a shot of it in water, it is awesome for digestion + feels like a conditioner on your stomach. Then I drink coffee, I love coffee but only good coffee ~ I drink Max coffee which is a local Kerikeri brand that grinds freshly each day ~ it's delicious.
I am obsessed with Tom Ford Black Orchid perfume, it's an iconic fragrance that has notes of black truffle, black plum, patchouli + black orchid. It is so calming + intoxicating. I never go far without my Amanda Guerin eyebrow enhancing pencil ~ it's the best for perfect brows.
Daily Skincare Ritual: I am very extra with my skin care, in the morning I always put on a ton of Adashiko Serum + then moisturise + then often the serum again, my skin soaks it up. I always moisturise my whole body with the Collagen Ceramide+ Body Serum ~ this is a hero product + probably the best moisturiser I have used in my life. It is so nourishing + feels healing + leaves your skin silky smooth. I fell over recently + had a large wound on my knee + I kept putting the body serum on it + it healed in no time.
I never go to bed with makeup on + always use the Adashiko Collagen Cleanse + a hot flannel to cleanse my face + I put some lavender drops on the flannel + have one last compress to make sure my face is really clean + then I moisturise with a serum again before I go to bed.
Do you have any wellness rituals you practice daily? I live 1-minute from the beach so everyday rain or shine I walk on the beach in bare feet + breath in the goodness of the sea. I have 2 little dogs so they love it too. It's so therapeutic. I do yoga 3 times a week, I do it to energise my body + calm my soul ~ it's so peaceful.
What does health + beauty mean to you? To be content in how you look + feel. Contentment is everything + it's a daily practice. I know that putting good things in your body helps with the feeling of being contented + how you feel so proud of yourself when your body feels good.
What's the most timeless health or beauty advice you've been given? "Everything has beauty, but not everyone sees it." ~ Confucius. I always look for beauty in everything, I am a glass half full kind of person + I believe there is nothing more beautiful than someone who wants to make someone else's life more beautiful. To focus your energy on other people makes you feel beautiful on the outside + inside.
Currently >
Reading: Ayn Rand by Atlas Shrugged - I use audible to read books
Watching: I recently finished watching Game of Thrones ~ I am so behind everyone else as I don't have much time to watch TV.
Favourite >
Eats: I am obsessed with Mahoe aged Edam cheese served with a glass of Two Hands Barossa red.
To cook: Chicken Marsala with crunchy potatoes + broccoli.
To dine: Morrel Bistro a local Italian gem + Gerome the ultimate Greek cuisine. Also Amano for breakfast.
Favourite New Zealand location(s): Northland ~ it's incredibly natural + beautiful.
Bucket-list location anywhere in the world: Northern Italy, my great grandmother was from Turin + I really want to go there.
Favourite way to move your body? The Sphinx yoga pose ~ it strengthens your spine + opens your heart. Being tall I need my back stretched often!
Favourite quote to share with Friends of Adashiko: Eat the good food, drink the good wine + remember life is too short so love hard.
How do you want to be remembered by your closest family + friends? Someone who made others happy.
What brings you peace? Knowing my friends + family are happy.
Want to know more about Vanessa? Join her on Instagram > @miss_magazines
Curious to read our Lovers of Adashiko Q+A series? You'll find the Q+A with Korrin Barrett here, Tāne Tomoana here, Bex West here, Carena West here, Lou Heller here , Holly Estelle here and Zoe Saunders here.
---