Getting to Know > Lover of Adashiko - Tāne Tomoana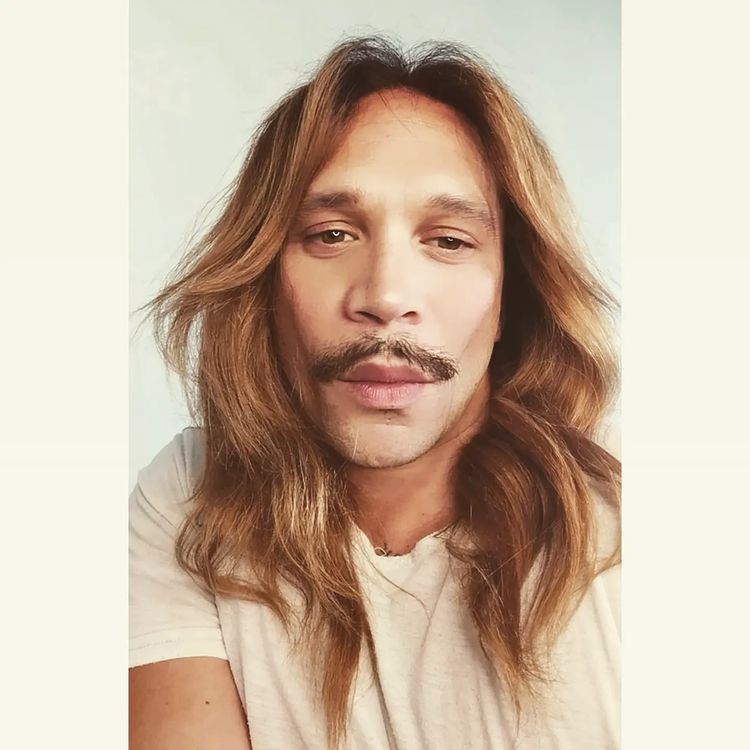 And suddenly, all the humans of Hawke's Bay flocked to Morgan Lane. The reason? The returning home of Tāne Tomoana. Master Stylist at the Hastings hot-spot (known + loved as the eco-ethical salon leading the pack), once Creative Director at Auckland's Dry + Tea, Celebrity Stylist + TVNZ's Glow Up NZ Mentor. Chances are you've seen the locks he's shaped for the likes of Hollie Smith, Anika Moa + Rt Hon Jacinda Ardern. Or perhaps you caught an episode or 7 when Tāne, Megan Papas + Gee Pikinga supported 9 make up artists as they navigated inspiring + creative challenges.
But we first met Tāne when we sat alongside each other on a panel of beauty experts at a 2020 Beauty EQ event in Auckland. He told us that, initially, he didn't get all the hype around collagen, but while living with Holly Estelle (another Lover of Adashiko you'll find right here) he decided to try it. His introduction to collagen was with Adashiko Ultra Collagen Powder. By complete coincidence when we met at Beauty EQ a few months later, Tāne shared his experience with us + it's been an honor to support his skin, hair, joints + wellness since.
Tāne tells us that he's drawn to Adashiko because of his active lifestyle. He believes in the importance of supporting your body as best you can, as you age + our collagen powders + skincare tick all the boxes for him.
We took 5 minutes with Tāne to talk about his can't-live-without products, wellness + skincare rituals, health + beauty advice + some of his favourite things.

This is the 5th piece in a new series > Getting to Know the Lovers of Adashiko. We hope you enjoy the read as much as we loved the chat.
Current role: Master Stylist @ Morgan Lane + Celebrity Stylist
Star Sign: Virgo
Age: 40
Must-have Adashiko Collagen + Skincare: The cleansing bar is my everything. I also use it with the brush to get a good lather to shave. Collagen Balm for lips + hands is an essential. And the Collagen Hydra+ Gold Serum for an energised glow anytime. I started my collagen journey with Ultra, but I'm now noticing incredible results from Joint Collagen Powder. 
What benefits have you noticed since using Adashiko? Being a hair professional for over 20years I first noticed how my hair felt, I have naturally dry curly hair + the moisturised, plumped fullness I noticed after about 6weeks of using the collagen was crazy. The skincare is the perfect compliment to the collagen powders, giving skin a plumped glow + radiance without the greasy feel hours later. Perfect for guys as it's simple + easy to use. I have a rare form of arthritis + have had two knee reconstructions + have played sport + been active all my life. Adashiko Joint is my foremost joint support that I can't live without, my arthritis flares have become significantly less frequent since taking Joint Collagen Powder daily.
Aside from Adashiko, what other products might we find in your bathroom / kitchen: Le Labo! Fragrance, lotions, bodywashes - all the things. Favourites being Santal 33, Tonka 25 + Bergamote 22. Diptyque 34 Boulevard Saint Germain Scented Oval. Mario Badescu facial spray.
And in the kitchen, I'm currently in the process of building so the whole kitchen thing is a vibe atm. But the thing I really couldn't live without is my classic good old fashioned Bialetti stovetop espresso + Bay Espresso dark + divine fresh ground coffee!

Daily Skincare Ritual: Cleansing bar to shave to start the day followed by Weleda Refining Toner, Collagen + Noni Gel + finish with Collagen Hydra+ Gold Serum. Le Labo body lotion daily + Adashiko Body Serum every 2nd day.
Cleansing Bar in the evening followed by Ren Evercalm night balm. Adashiko Collagen Balm for lips + hands. Collagen Gel Cloth Masque once a fortnight.
Do you have any wellness rituals you practice daily?  I try to exercise daily whether that be a high intensity session or a walk or stretch. I think wellness is a way of life so I try to encompass wellness in every aspect of my life + being, which is an intrinsic indigenous value system.
What does health + beauty mean to you? Health + beauty to me is definitely a feeling. I've worked in the beauty industry for a long time + we all just want to feel good, however we choose, to safely achieve joy..
What's a timeless piece of health or beauty advice you've been given? Be yourself, that's your superpower.
Who is your biggest inspiration? My Down Syndrome Brother Te Whetu.

Currently >
Reading: The Woven Universe - Rev Māori Marsden.
Watching:  Mare of East Town - Neon.
Favourite >
Eats: Seafood
To cook: Curries + BBQ
To dine: 372 Waiheke, Cotto K Rd, Craggy Range Tukituki Valley.

Favourite New Zealand location(s): Man-o-War Bay Waiheke, My tiny rural marae village Waipatu in Hawkes Bay + Bay of Islands in summer.

Bucket-list location anywhere in the world: We haven't been able to holiday internationally for over two years so anywhere tropical, exotic, + fabulous!!!
Favourite way to move your body? I don't have a favourite to be honest. I think movement is an avenue to joy ~ I do know this.
Favourite quote to share with Friends of Adashiko: "Forgiveness is the fragrance the violet sheds on the heal that crushed it" ~ Mark Twain
How do you want to be remembered by your closest friends + family? Authentic + true.
What brings you peace? Home.
Want to know more about Tāne ? Head over to his Instagram > https://www.instagram.com/_iamtane_/ 
Curious to read our Lovers of Adashiko Q+A series? You'll find the Q+A with Bex West here, Carena West here, Lou Heller here and Holly Estelle here.
---