Getting to Know > Lover of Adashiko - Korrin Barrett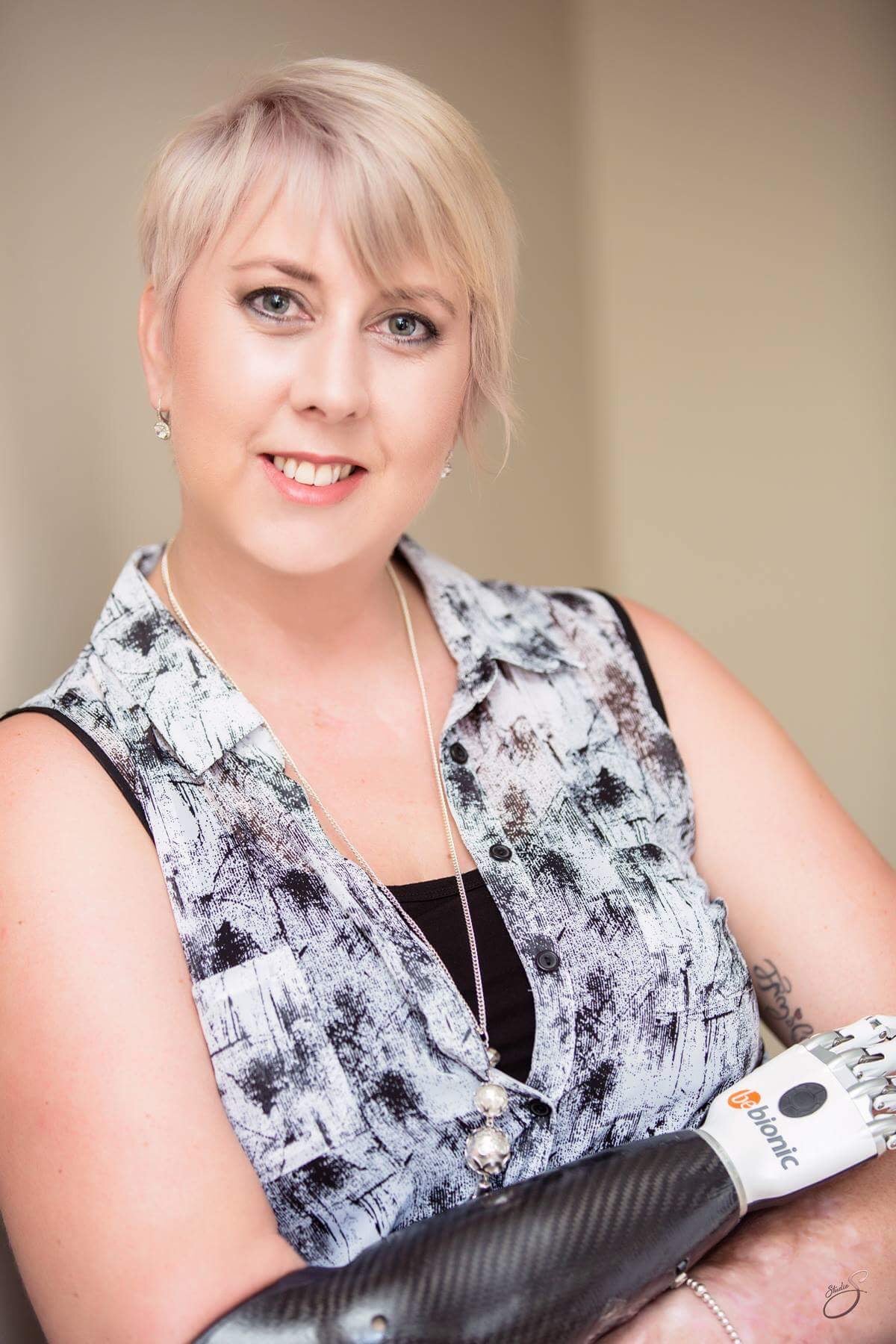 In 2012, while living in Australia, Korrin Barrett was diagnosed with a serious bowel condition. The vivacious, fit + healthy 33-year-old, with everything to live for, was put into an induced coma after developing sepsis + multiple organ failure + given a 5% chance of survival.
Nine days later, when Korrin miraculously awoke from the coma, she received the devastating news that to save her life, both her legs + hands would have to be amputated.
After 25 surgeries, + over seven months spent in hospital recovering + learning to live life as a quad amputee + it became imperative for Korrin to look after her gut health + heal from within, while also improving the look of external scarring + skin damage. Around 5 years ago, Korrin was introduced to Adashiko Ultra Collagen Powder for her general wellbeing + she's never looked back.
In Korrin's words, "I tell people there are three choices when something rocks their world - give in, give up or give it all you've got. I chose the latter." Korrin learned to not only get back up but to live her life unlimited.
We took 5 minutes with Korrin to talk about her can't-live-without products, wellness + skincare rituals, health + beauty advice + some of her favourite things.

This is the 6th piece in our series > Getting to Know the Lovers of Adashiko. We hope you enjoy the read as much as we loved the chat.
Current role: Keynote Speaker | Mentor | Ambassador
Star Sign: Cancer
Age: 42
Must-have Adashiko Collagen + Skincare: Collagen Ultra, Collagen + Noni Gel, Collagen Balm  
What benefits have you noticed since using Adashiko? I've noticed a huge improvement in my gut health + the appearance of my scars. My skin always feels hydrated + I love when I get comments about having beautiful skin.
Aside from Adashiko, what other products might we find in your bathroom / kitchen: Chi-Chi BB Cream, Pure Fiji Coconut Oil, Bondi Sands Hydra Sunblock + Karen Murrell Lipsticks.
Daily Skincare Ritual: 
Morning: Cleanse with Adashiko Collagen Cleanse bar, apply Adashiko Collagen + Noni Gel + Collagen Hydra+ Gold Serum combined, apply sunblock then makeup + lather my body in Adashiko Collagen Ceramide+ Body Serum.

Evening: Cleanse with Adashiko Collagen Cleanse bar, apply Adashiko Collagen + Noni Gel + Collagen Hydra+ Gold Serum combined, apply Adashiko Silk Repair Eye Cream + Adashiko Collagen Balm. Once a week I like to use an Adashiko Masque to really hydrate my face too.
Do you have any wellness rituals you practice daily? I try to do at least 30 minutes of exercise a day whether it's a walk, the gym or yoga, even if it's a home workout it still works! I've recently bought a water bottle that holds 2L to encourage me to drink more water. And practicing gratitude, daily, is hugely important to me.
What does health + beauty mean to you? For me it's all about convenience + knowing that your mind health is just as important as your physical health. Not having any fingers makes applying products difficult but I have worked out a way to use all of the products. I need to ensure I'm getting the best overall care for my mind and body.

What's a timeless piece of health or beauty advice you've been given? Drink lots of water + never go to bed with your makeup on!

Who is your biggest inspiration? I can't solely name one person who inspires me as there are so many. I find inspiration in almost every new person I meet, especially if their values align with mine + we're on a similar path to motivate, empower + boost positivity in people from all walks of life.

Currently >
Reading: The Resilience Project - Finding Happiness Through Gratitude, Empathy & Mindfulness by Hugh Van Cuylenberg.
Watching:  Chicago Fire. Yes, I went back to Season 1 Episode 1
Favourite >
Eats: Thai, Japanese or good ol' Fish n Chips
To cook: Prawns grilled in sesame oil, Brown Rice, Spinach & Asparagus with crumbled feta + lemon juice.

To dine: Piku or Thai Silk in Hawke's Bay.

Favourite New Zealand location(s): Marlborough or Central Otago

Bucket-list location anywhere in the world: Scotland.
Favourite way to move your body? Gym or Yoga.
Favourite quote to share with Friends of Adashiko: "You are allowed to be both a masterpiece + a work in progress simultaneously".
How do you want to be remembered by your closest friends + family? As a hard working, loyal, determined, resilient + fun warrior.

What brings you peace? I want to inspire people. I want someone to look at me and say 'because of you I didn't give up'.
Want to know more about Bex? Want to know more about Korrin? Head over to her website > https://www.korrin.nz/ or join her on Instagram > www.instagram.com/korrin_lifeunlimited + Facebook > www.facebook.com/korrinlifeunlimited

Curious to read our Lovers of Adashiko Q+A series? You'll find the Q+A with  Tāne Tomoana here, Bex West here, Carena West here, Lou Heller here and Holly Estelle here.
---