The Eyes Have It: How To Take Care Of Your Eye Area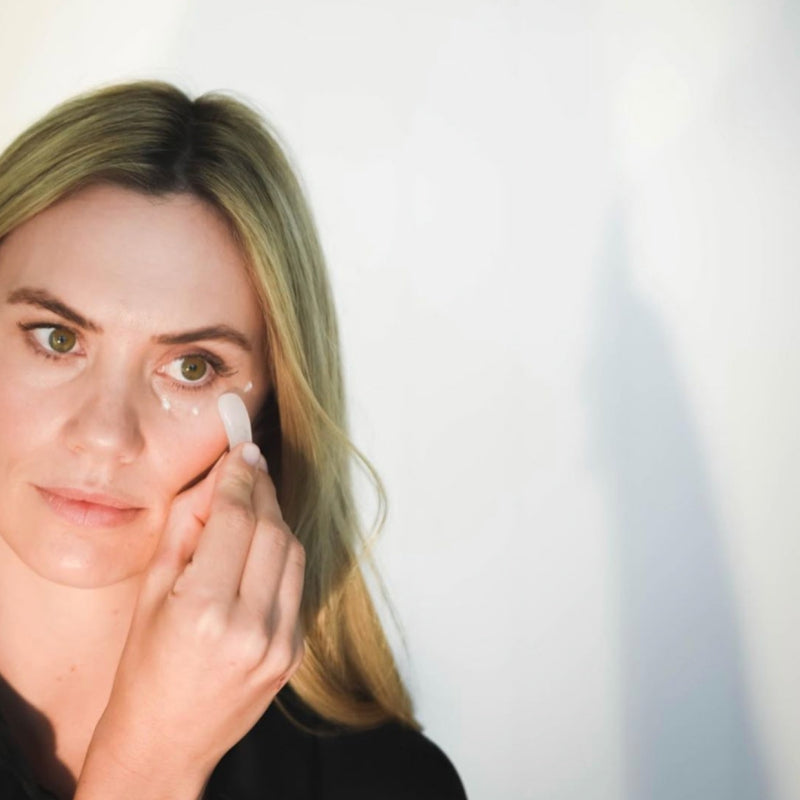 Our eyes, both inside + out, are extraordinarily delicate + susceptible to ageing. Many of us notice fine lines, crepey skin + a general loss of elasticity as some of the first visible signs of ageing around the eyes. 
When it comes to caring for the skin around your eyes it pays to play close attention to your skincare, application + solar exposure. Your eye area requires a very light touch during makeup removal + cleansing, adequate hydration from quality skincare products + daily sun protection.

Use an oil-based makeup remover to dissolve stubborn eye makeup + reduce the amount of rubbing you need to do. Makeup removal cloths are also effective at removing eye makeup with only water. Be as gentle as possible + be sure to remove all traces of makeup around the eyes - leftover particles can irritate + dehydrate your skin. 
As you cleanse, avoid tugging at the skin around your eyes + instead use gentle movements. If you're a lover of Adashiko Collagen Cleanse, consider using our Kabuki Brush to elevate your cleanse experience + feel the difference of the silky-soft bristles.
While we love to soak up the Hawke's Bay sunshine here at Adashiko HQ, we're also aware how the power of the sun reduces collagen + elastin - making your already delicate eye area thinner. Daily SPF is an essential - even when it's not overly sunny outside. Look for a gentle formula that won't irritate your eyes. Sunglasses + hats provide additional protection to shield your eyes + the surrounding skin - bonus: they help to prevent crows feet from squinting into the sun.
When choosing skincare for your eye area, specially formulated eye creams are your best bet. Look for a formula that is:
Fragrance-free

Ultra-gentle (with no alcohol, essential oils, or irritating ingredients)

Antioxidant-rich to protect against ageing

Highly moisturising to nourish the skin
The Adashiko Eye Care Solution
We've dreamt of creating an eye cream for many years + after rigorous testing + development released our very own Silk Repair Eye Cream.
Our targeted formula has been carefully formulated to brighten, hydrate + smooth the undereye area. 
Consciously crafted, we only use the best ingredients: ultra-nourishing plant-based extracts moisturise + soothe the delicate skin around your eyes, while potent antioxidants prevent + minimise the signs of ageing.
Here's what a few Friends of Adashiko have to say about our Silk Repair Eye Cream:
"I have been using the eye cream for one year now . I love it. I am over 60 and have not seen any further regression in my eye area and small wrinkles have gone . Highly recommend." ~ Astrid Martin
"With my uber sensitive skin, especially around my eyes, I was a bit hesitant to try this product, but as I've LOVED every other Adashiko product I've tried (and my skin hasn't reacted), I thought why not give it a go! No regrets. None. Instant brightening after a couple days, hydrating, silky smooth and just amazing. Recommend for everything, even those with ultra-sensitive skin like mine." ~ Louella
"I've used eye creams before and after a few applications gave up because I didn't feel that it made a difference but with Adashiko i love it. I can see and feel the difference and am hooked." ~ Donna Heaps
Key ingredients:
Vitamin C: A powerhouse antioxidant that protects against environmental damage, evens out skin tone, brightens, improves skin hydration + prevents ageing.
Cupuacu Butter: An intensely nourishing natural plant emollient with a protective antioxidant effect.
Vitamin B: Also known as Niacinamide, Vitamin B3 is a skin wonder that brightens skin, reduces fine lines, improves skin texture + preserves moisture.
Vitamin E: A nourishing, super antioxidant that protects against environmental stressors + fights the signs of ageing.
Macadamia Seed Oil: An ultra-nourishing emollient for dry skin. Packed full of essential fatty acids, antioxidant powder + phytosterols for skin protection + repair.
Benefits:
Instantly revives + refreshes tired eyes.

Plant-based moisturisers nourish + hydrate the skin.

Minimises the appearance of dark circles + puffiness.

Can assist in reducing fine lines + wrinkles.

Powerful antioxidants protect against the signs of ageing.
But we took one step further + considered a deam application...
All the hard work of a quality eye cream can be undone with application that drags + pulls the skin around your eyes. As a rule of thumb, if you can see the skin moving + stretching, there's too much pressure.
Alongside our Silk Repair Eye Cream, we've included a luxurious Quartz Spatula for application to help reduce undereye puffiness while refreshing + soothing your eye area. With a light hand, the spatula glides over your eye area + provides a hygienic way to apply your eye cream.
If you know your crystals, you'll know that Clear Quartz is one of the most healing crystals in the world + is highly energetic.
Pro Tip: Keep your Adashiko Silk Repair Eye Cream + Quartz Spatula in the fridge for an extra refreshing application.
---