Our 5-Star Skin Saviour (And How To Use It)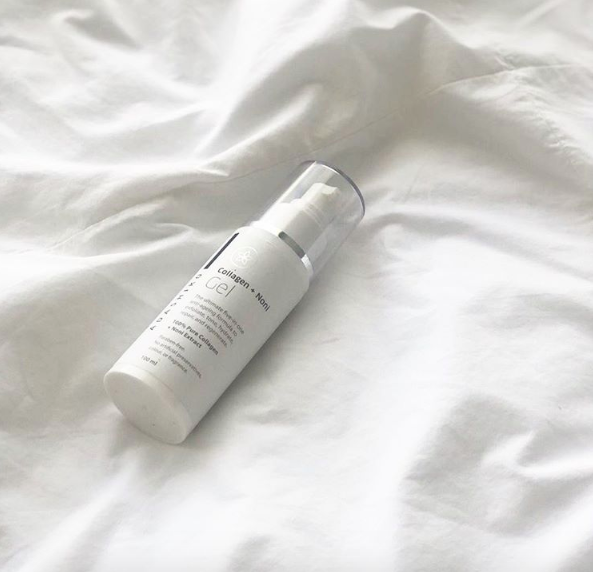 Contrary to popular belief, skincare regimes don't need to be elaborate and complicated to work. Choosing well-formulated, multipurpose products keeps things simple and saves you time in the morning and evening. It's important to note that not all skincare products are created equal; quality, active ingredients are vital for results. 
We created our Collagen + Noni Gel to suit all skin types and promote healthy, hydrated, balanced skin while providing anti-ageing benefits. With over 190 five-star reviews on our website, Adashiko Collagen + Noni Gel has reached cult-like status among our customers!
But what makes it so special?
The gel formula is lightweight, yet it offers impressive hydration courtesy of Hyaluronic Acid. HA binds to water in the skin, giving a plumping, smoothing effect.
It can be used as a treatment serum under heavier products or worn alone as a moisturiser morning and night.
Due to the silky smooth texture and hydrating properties, it is an excellent makeup primer!
With the addition of soothing ingredients, it is perfect for treating sunburn or bites. Keep your bottle in the fridge for an extra refreshing application. 
Noni Extract provides antioxidant protection to fight the signs of ageing. Noni is also rich in vitamins, soothes the skin, and has anti-bacterial properties. 
It has zero fragrance, colouring, artificial preservatives, fillers, or parabens, and it is also cruelty-free. 
Marine Collagen Peptides replenish natural collagen stores and increase skin's moisture levels and smoothness. Our Collagen is a low-molecular-weight, allowing it to be readily absorbed into the skin. 
Three steps to natural, glowing, summer skin.
Step one: Cleanse with Adashiko Collagen Cleanse Bar for a silky-smooth lather that will effectively remove makeup and leave skin feeling amazing (never dry). Remove with a soft washcloth to gently exfoliate. Check out our Collagen Cleanse Travel Case if you're on the go.
Step two: Apply a light layer of Adashiko Collagen + Noni Gel to the face, neck, and decolletage. Apply tinted moisturiser, makeup, or SPF on top if desired.
Step three: Apply Adashiko Collagen Balm to the lips or any dry areas on the face and body.  
Collagen + Noni Gel Benefits
Reduces the appearance of wrinkles and fine lines.

Improves the appearance of pigmentation and age spots.

Helps to prevent acne and breakouts.

Calms and soothes irritated skin.

Gently exfoliates the skin to allow the penetration of active ingredients.

Improves skin texture.

Creates supple, smooth skin.

Infuses the skin with moisture for long-lasting hydration.

Primes the skin for smooth makeup application.
What our customers are saying
"I have been using this product for about a month now, and I absolutely LOVE it! I've noticed a huge difference in my skin; my skin feels more toned, hydrated and less lines. I have also used it on the areas where I get eczema, and it's the only product that works. I highly recommend this product." 
- Lisa
"I really love this product. I have extremely sensitive skin & have had a lot of texturing on my face. Happy to say that since starting this my skin has settled & smoothed and is looking hydrated and fresh again.
- Deirdre
"Wow, this product is so amazing. I have just finished one bottle of this gel. I also take the collagen powder daily. I have suffered from cystic acne for a while since stopping birth control. I have tried everything to soothe it, but nothing has worked until I found this product thanks to Simone. I am just onto my second bottle now, and the results in my skin are unbelievable. 
My skin is looking happy and more hydrated. My cystic acne has settled down a lot and is nowhere near are intense, red or painful like before. I find if I do have sores or a wound on my face it heals much quicker with this stuff. This product has changed my skin 100%, and I totally love it."
- Deanna
---