Nourishing Pumpkin + Kumara Collagen Soup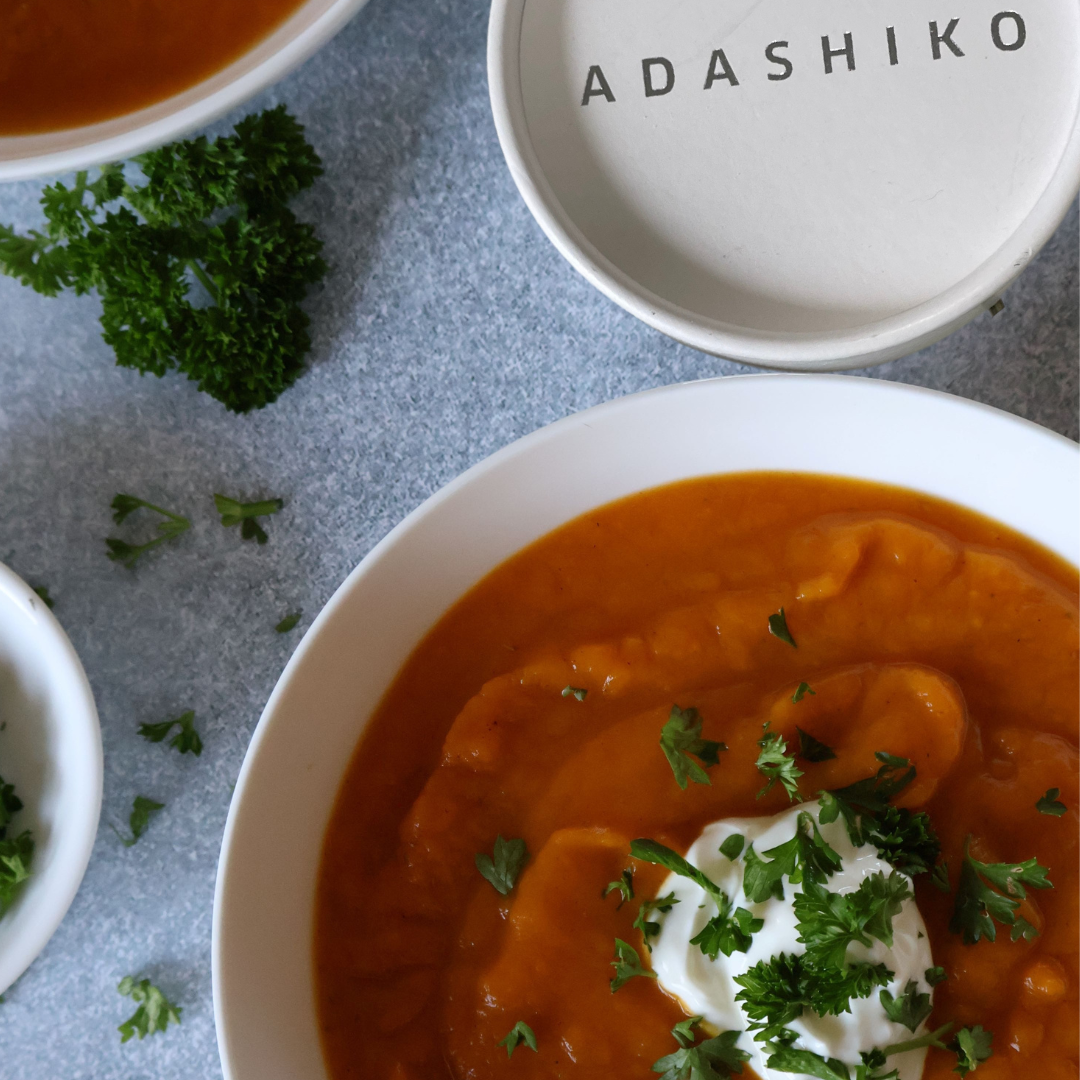 She's done it again. Our garden-to-table recipe creator, Ellen Larsen, has served up another nutritious + delicious collagen-infused recipe.

If you're searching for easy ways to sneak supplements into your food to fortify their nutritional value, then Adashiko Collagen Powders are the perfect solution. Especially when the air outside cools down + you want to heat things up in the kitchen.

Remember, not every collagen supplement is made the same.
Some collagen powders lose their potential once things heat up in the kitchen. At Adashiko, we use the world's finest peptide collagen. Adashiko Collagen is flavourless + odourless, with no unnecessary fillers or sweeteners. Fully dissolvable, heat-stable, + ready to mix into anything you fancy ~ coffee, tea, smoothies, juices, soups, baking, snacks, a cheeky cocktail + Ellen's Nourishing Pumpkin + Kumara Collagen Soup.
This winter-warmer soup is not only great for your gut, high in antioxidants + vitamin A ~ but fab for your skin, nails + hair too. Who would've thought a humble soup could be so good!?
Prep Time: 10 mins Cook Time: 45 mins Inactive Time: 5 mins Total Time: 1 hour

Ingredients:
800g peeled Pumpkin, diced into rough 2 inch pieces
450g peeled Orange Kumara (sweet potato), diced into rough 1 inch pieces
3 x sprigs fresh sage (or 2 x tsp dried)*
2 TBSP crushed ginger
2 x vegetable or chicken stock cubes
5 1/2 cups water
1 tsp ground nutmeg**
1/4 tsp ground pepper**
Method:
Place the first 5 ingredients into a large saucepan.
Cover vegetables with the water completely.
Heat on high until water is boiling.
Turn down to medium heat + stir in your Adashiko Collagen Powder. Simmer for 40 minutes.
Check that your vegetables are completely cooked - they should be starting to fall apart to the touch.
Remove the pot from the heat + using an immersion blender, blend the soup into a complete puree.
Add ground nutmeg + ground pepper + blend until combined. Season to taste.
Serve hot with your fav toppings + a chunk of bread! ***
Notes:

*Fresh sage is always best if you can get your hands on it from both a nutritional + flavour point of view... however dried is fine too! No judgement here.

** add more/less ground nutmeg + pepper depending on your preferences - season to your own taste. Try adding a little, blending + tasting + repeating this process until it's just right, for you.
***Ellen's fav topping combination is a dollop of greek yoghurt, crispy bacon bits + lashings of fresh parsley on top... + toast soldiers or a bread roll to mop-up all that soupy goodness.
1 serving of this soup will give you your daily dose of Adashiko Collagen Pure
Ellen Larsen is a garden-to-table, specialty diet + UGC content creator living with multiple chronic illnesses. She lives a quiet life in Auckland, spending as much time as possible in the garden, tending to her indoor plants, plotting new recipes, or finding new ways to be creative. You can discover her growing collection of achievable + tasty recipes over on her website, or join her on Instagram.
---