5 Creative Ways To Take Your Collagen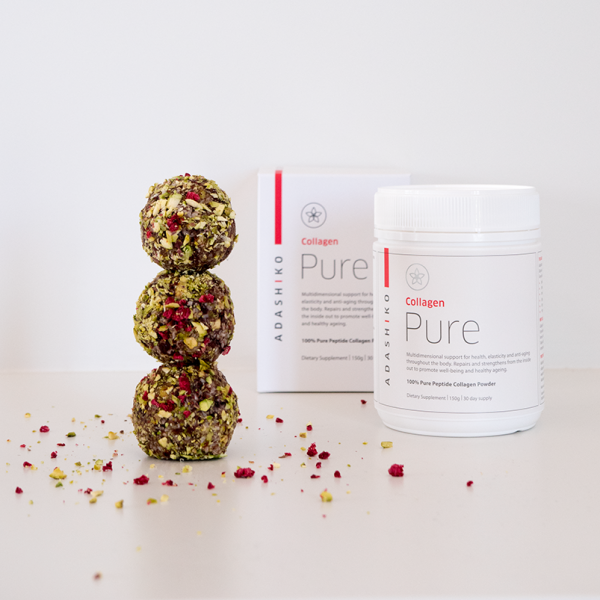 The most important thing about supplementing with collagen powder is to be consistent: it must be taken every day to get results. With this in mind, it's important to find a way to take your collagen that you enjoy. Learn how to get the most out of your collagen here.

Adashiko collagen powders have been developed with the consumer in mind, with no taste or odour, and a fine texture that dissolves effortlessly in any hot or cold food or beverage. Not sure which powder to take? Check out this post. We've put together a list of a few of our favourite ways to take collagen, but really, the possibilities are endless.
Bulletproof Coffee

Bulletproof coffee, or BPC, is gaining popularity due to its purported health benefits. The original BPC was black coffee blended with butter and/or MCT/coconut oil (no milk), and was designed to create mental focus, boost weight loss, and to buffer the effects of caffeine.

Adding collagen to your coffee is quick and easy. To create your own beauty-boosting bulletproof coffee, add one tablespoon of Adashiko, a teaspoon of butter or coconut oil, and a dash of milk of your choice (try coconut milk from a can for a creamy, delicious option). Whizz everything together in the blender and enjoy. The addition of collagen helps the coffee froth up beautifully.

Soup

A hearty, warming soup makes a delicious lunch or dinner through the colder months. Adding your collagen is easy and quick - stir one tablespoon through your serving. Our creative team came up with this tasty Chicken and Corn soup recipe that is sure to please the whole family.
½ tsp Black Pepper 
½ tsp Salt 
1 tsp Ground Coriander 
1 tsp Smoked Paprika 
1 tsp Ground Cumin 
400 g Chicken Thighs 
 
INGREDIENTS 
 
( Serves 4 – 6 ) 

Chilli Flakes 
2 TBS Olive Oil 
2 TBS Butter 
1 Brown Onion (finely diced) 
3-4 Cloves of Garlic (finely diced)  
½ Jar Olive Lady Pickled Green Chilli 
2 x Tin Cannellini Beans (rinsed and drained) 
1 x Tin Whole Corn Kernels (drained) 
4 C Chicken Bone Broth* 
200 g parmesan Cheese (grated) 
½ C Sour Cream 
1 x Lemon (juice and rind – finely grated) 
4 tablespoons x Adashiko Collagen Powder 
 
EXTRA TOPPINGS  
Coriander 
Sliced Jalapeno 
Spring Onion 
Microgreens 
Rocket 
 
Method: 
In a bowl, season the chicken thighs with the cumin, paprika, coriander, all of the lemon rind and half of the lemon juice. Marinate for at least 30 minutes.  Heat the olive oil + butter in a large pot over a medium heat. Cook the thighs ( whole ) through ensuring all sides are browned ( approx. 6-8 minutes). Remove from pan and set aside. Cover with foil as it rests. 
 
To the leftover oil in the pan, add the onion – allow the onion to soften before adding the pickled green chillis and garlic. Cook for a few minutes and add in the chilli flakes. 
 
Turning up the heat slightly add in the beans, corn kernels, bone broth/stock. Bring the mixture to the boil, place the lid on the pot and reduce the heat to a simmer for 20 minutes. Stir in the Adashiko Collagen Powder until mixed through. 
 
Remove the pot from the heat, stir in the parmesan cheese until melted through. To lift the dish, squeeze the remaining half of the lemon juice and stir through. Stir in the sour cream. Top with desired toppings and serve.
 
SIDE NOTE : 
The Olive Lady Pickled Peppers (Chillis) are not spicy. They just add in a lovely tang + rounded flavour.
Supercharged Water or a "Quick Shot"

We're all told to drink more water, and it is advised to have a large glass of water first thing in the morning to rehydrate post-sleep. Why not make this first glass of water even more beneficial for your body? Add in one tablespoon of collagen and a dash of Apple Cider Vinegar or lemon juice to kickstart your digestion for the day (warm water is also good for digestion).
Quick Shot:

Keen to get your collagen in super fast first thing in the morning? Try a quick shot: one tablespoon of Adashiko with a small amount of juice or water. For more health benefits you could add turmeric and ginger to your juice, or if you have a juicer, you could prep a batch every few days to mix with your collagen.
Watch this space for a special Adashiko juice recipe coming soon!
Baking

When we say our collagen can go into any food, we mean it, including cookies, slices, bliss balls, bread, cake, muffins - you name it! If you're taking collagen, chances are you are health conscious and opt for healthier versions of the above.

There are endless recipes online - be sure you work out how many tablespoons of collagen to add, so you get a therapeutic dose per serving. For instance, if you make six large bliss balls and plan to have one per day to get your collagen fix, you will need to add six tablespoons of collagen.
Try an Adashiko HQ favourite ~ Chocolate Peanut Protein Balls
Addictively delicious protein rich peanut butter and buckwheat balls are the perfect snack. Adding in servings of Adashiko Collagen powder will assist with repairing and strengthening your body from the inside out! Making the balls ahead to ensure you don't miss your daily collagen serving. Perfect with Ultra, Pure or Joint.

10 medium sized balls Ingredients:
1/2 cup activated or toasted buckwheat
1/2 cup crunchy peanut butter (must be crunchy!!)
5 tbsp Adashiko Collagen Powder
pinch salt
2 tbsp maple syrup
100 g dark chocolate, melted to coat

Method:
1. In a medium sized bowl add your buckwheat, peanut butter, adashiko collagen, salt and maple syrup.
2. Combine ingredients until everything is well incorporated.
3. Line a tray with baking paper.
4. Scoop 1 heaped tbsp of the mixture to make 10 medium sized balls. Roll firmly creating a ball shape and place on the tray.
5. Melt down the chocolate and cover each ball
6. Place in the fridge for 30 minutes before serving.
7. Keep in a sealed container in the fridge for up to a week.
Superfood Chocolate

If like us, you have a sweet tooth, this healthy homemade chocolate will hit the spot. In a small saucepan, melt coconut oil and nut butter together on a low heat, and stir in cacao powder, Adashiko collagen, and your sweetener of choice (maple syrup, honey, or stevia all work well).

Add in your choice of goodies: try shredded coconut, chopped nuts, goji berries, cacao nibs, or dried fruit. Pour into a lined baking tray and set in the freezer. Break into shards and enjoy!

(Best stored in the freezer)

Do you have a collagen recipe or idea that you love? Or would you like to see a specific recipe from us? We'd love to hear from you - info@adashiko.com
---