THE BENEFITS OF CERAMIDES FOR DRY, DEHYDRATED, SENSITIVE + AGEING SKIN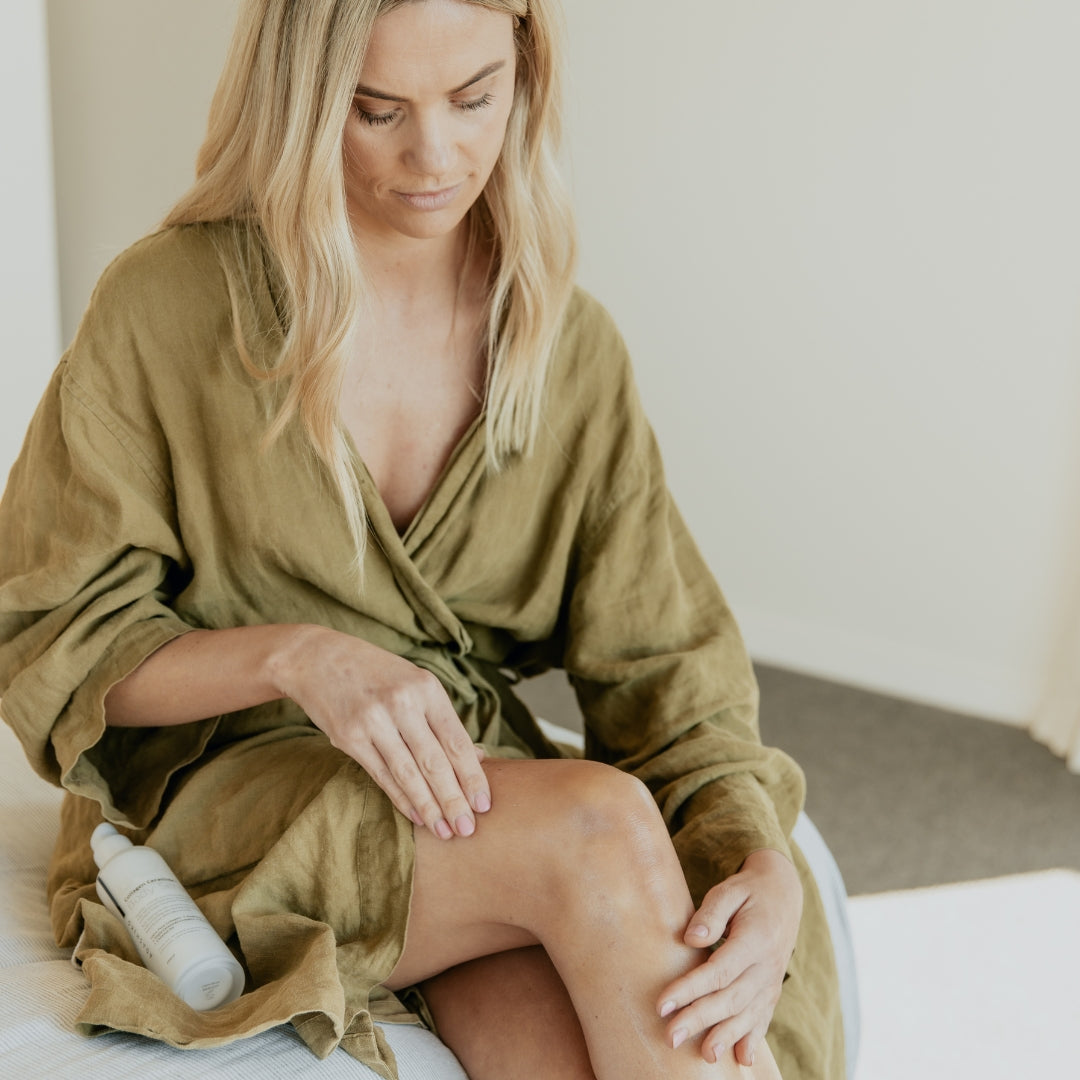 Your skin contains lipids (fatty acids) called ceramides. They make up around 50% of your outer skin layer (epidermis). Ceramides act as protective barrier + lock moisture into your skin to help prevent dryness, irritation + protect your skin from environmental damage.
But, wait ~ isn't skin naturally made up of ceramides?
Yes, although your skin is naturally made up of ceramides, the realities of everyday life + ageing means these fatty acids are lost over time which can result in dehydrated skin that feels dry, dull + irritated. If you're looking to improve the tone, texture + appearance of your skin you may want to consider moisturisers + serums containing additional skin-replenishing + restoring ceramides.
The benefits of using skincare products containing ceramides.
Where do we start? The benefits are many + the results are real. Here at Adashiko, we think of ceramides as the seriously unsung heroes of skincare. Helping to protect + maintain your skin's barrier, ceramides play an essential part in your skin-nourishing rituals. Here's a few of our fav skin-loving benefits:
Supports + maintains the health of your skin cells.

Helps to create a barrier to prevent moisture from leaving your skin.

Instant surge of long-lasting skin hydration to prevent dehydration, dryness + irritation.

Protects your skin from environmental damage.

Anti-ageing factors minimise the appearance of fine lines + wrinkles + encourage smooth + supple skin.
The types of ceramides to look for in skincare.
Firstly, let's talk about natural vs. synthetic ceramides. The only natural ceramides are the ones already in your skin. The ceramides you'll find in most skincare products are synthetically + safely made. 
When looking for products with skin-replenishing + restoring benefits you should look for formulations containing:
Ceramide EOP (Ceramide 1) 

Ceramide NP (Ceramide 3) 

Ceramide AP (Ceramide 6II) 
While there are nine different ceramides in your skin, ceramides EOP, NP + AP are the three essential ceramides that work best for dry, dehydrated, sensitive + ageing skin.
Adashiko's unique Triple Ceramide Complex.
We've consciously crafted our Collagen Ceramide+ Body Serum to hydrate, smooth + revive your skin with advanced hydration powered by a unique Triple Ceramide Complex.
Anti-ageing factors work in harmony with enriching skin-loving ingredients leaving your skin silky smooth for 72 hours, even after showering.
Don't just take our word for it, here's what a few Friends of Adashiko have to say about our blend of 100% Pure Collagen, Hyaluronic Acid, Triple Ceramide Complex (Ceramides EOP, NP + AP) Vitamin E, Shea Butter, Liquorice Extract + AHA / Glycolic Acid.
"This serum is the best body product I have ever used. It is silky smooth + sinks in + has no greasy feeling. It truly hydrates + I have found everything from nails to wounds heal from using it. Totally impressed." ~ Vanessa Bennett
"This is gorgeous. I have skin problems + using this on my legs + arms has really helped." ~ Jacqui Geange
"Love love love this body serum, so hydrating when applied to the skin, minimal rubbing into the skin required as it absorbs so fast into the skin.  Very light, non-greasy feel to it + I noticed my skin was glowing more after one-week of daily application." ~ Felicity Poipoi
---