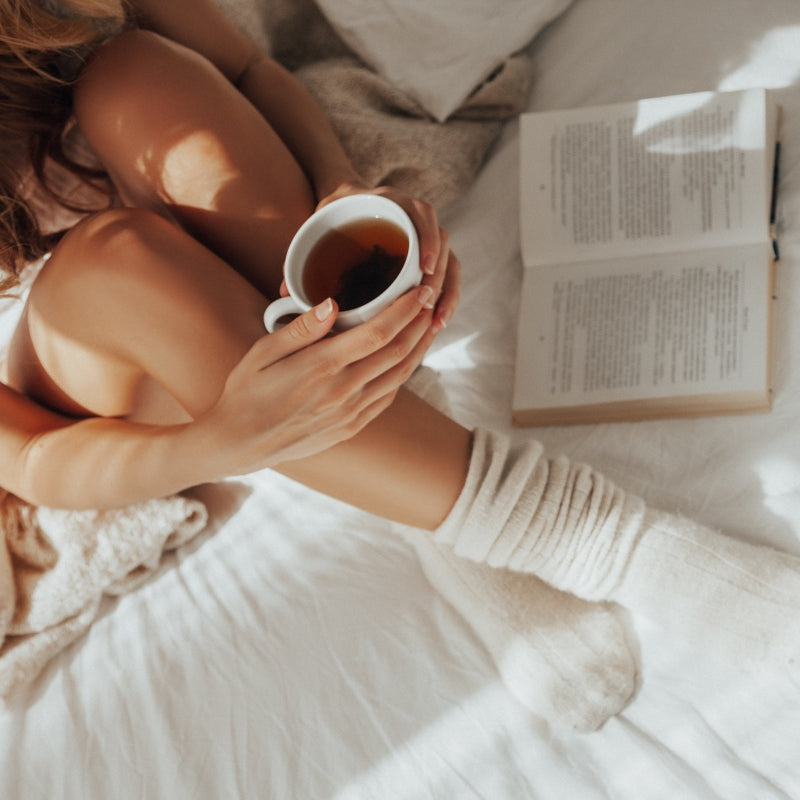 With the long weekend ahead and the silly season just around the corner, it's an excellent time to slow down and indulge in a little self-care. Self-care isn't necessarily all bubble baths and cups of tea - it could be something simple like saying no to an invite or asking someone to watch the kids so you can go to the gym. Whatever it is, carve out that time for yourself. We've detailed a few of our favourite inexpensive or free activities below. 
Practice yoga
Oh, yoga; we can always count on you to restore a little balance and clear the head. Even a quick session will have you feeling like a million bucks - try setting up your yoga mat outside to get a nature hit while you flow.
Free yoga classes are abundant online and can be completed comfortably at home in your own time, regardless of your experience level. Win-win. 
Read a book
If you love to read, you'll agree that one of the greatest pleasures in life is getting lost in a good book. Add a cup of tea and a cosy nook, and you'll be in relax-mode in no time. Check out three of our recent reads, below.
City Of Girls by Elizabeth Gilbert 
Elizabeth Gilbert of Eat, Pray, Love success is back with a whirling, glamorous romp through 1940s New York. Fun, easy reading with strong female characters breaking the mould and living life on their terms. 
The Invisible Load: A Guide To Overcoming Stress And Overwhelm by Dr Libby
Feel like you have too many tabs open in your brain? Dr Libby's latest book is for you. From the physical load on our body to the emotional load in our mind, this invisible load is what really sits at the heart of our stress. Dr Libby brings to light the many causes of stress and overwhelm and helps you identify what's really going on. 
Journey to Health by Simone Anderson
After losing 88kg and transforming not only her body but her life, our golden girl Simone Anderson shares her inspiring journey of weight loss and self-love. Simone shares the ups and downs, her surgery experiences, and her path to body positivity and success. 
Listen to a podcast
Take some time out to expand your knowledge in the easiest way possible: via podcast. Podcasts are perfect for listening to while exercising, driving, cooking, or with your feet up on the couch while you have a cuppa. Here are a few of our current favourites.
Gwyneth Paltrow's famous website has expanded to include a fascinating podcast. The team chat with leading thinkers, culture changers, and industry disruptors - from doctors to creatives, CEOs to spiritual healers.
Delve deep into the world of self-improvement and higher living with topics such as sex and relationships, yoga, meditation, health myths and medical conspiracies, spirituality, mindfulness, health food and supplementation, herbs and alternative medicine, and biohacking technologies and tactics. 
Where personal development meets real life. Ruben Chavez explores a variety of topics with thought leaders, scientists, creators, artists, entrepreneurs and other interesting people to bring you different perspectives you can use to enrich your mind and improve your life in whatever way you see fit.
Pamper yourself 
No need to go to an expensive spa - you can create a dreamy pamper session in the comfort of your own home. If you have a bath, take a long soak with bubbles or a bath bomb, and don't forget to apply a face mask before you jump in. 
Adashiko Collagen Gel Masques are the ultimate hydrating, radiance-boosting, reviving treat for your face! For optimal absorption, cleanse first with Adashiko Collagen Cleanse, dry your face, and apply the masque. Leave for up to thirty minutes and massage in any excess. Finish with a layer of Adashiko Collagen + Noni Gel.
Give your body a little love with a DIY sugar/oil scrub. Mix some sugar or salt with olive, almond, or coconut oil, and add in a few drops of your favourite essential oil if you like. Wet your body in the shower, turn off the water for a minute and take some time to really massage the mixture all over your body. Rinse off and enjoy your new baby-soft skin. 
If you're not into long pamper sessions, even the simple act of washing your hair or taking a long shower can leave you feeling refreshed.
Get creative in the kitchen
Host a dinner party, bake a cake, or whip up a special meal for one. Cooking is therapeutic, and along with your favourite music and a glass of kombucha (or wine!), can help you get in a state of "flow", switching off your active mind and allowing you to be fully immersed in your activity. 
In need of some inspiration? We got you. The Greens Pesto is perfect under eggs on toast, stirred through pasta, as a topping on soup, or as a dip on an antipasto platter.   
THE GREENS PESTO 
INGREDIENTS 
2/3 c Pumpkin Seeds (toasted) 
1 x Lemon (juice and rind) 
3 c Rocket*  
½ c Parmesan Cheese 
3 x Garlic Cloves (chopped roughly) 
½ tsp Salt 
½ tsp Pepper 
¼ tsp Chilli Flakes 
1/4 – 1/3 Olive Oil 
2-3 TBS Cold Water  
10 x Scoops of Adashiko Collagen Powder 
METHOD 
Chop garlic + squeeze the juice of the lemon. Place the garlic in the lemon juice, this helps mellow the flavour of the raw garlic. 
Toast the pumpkin seeds over medium heat in a large pan until slightly golden. Shake the pan often to ensure that they do not stick. Leave aside to cool. 
Place the ingredients except for the olive oil into a food processor or blender including the pumpkin seeds. Stream the olive oil in to make a thick paste. Add more oil if desired to thin out the mixture, water can be used at this point also.  
Taste and adjust acidity/salt if need be. 
SIDE NOTES 
*Rocket can be mixed with other greens such as watercress, basil and other herbs that are bountiful in the season.   
Also ½ an avocado adds a beautiful creamy element when in season during Summer – use the same day. 
Keep this beautiful spread in the fridge – it will last 7-10 days. 
Get outdoors
We are spoilt for choice in New Zealand; there are endless beach missions, bush walks, and adventures to be had in the great outdoors. 
If you're keen on something slow-paced, why not try some forest therapy? Developed in Japan in the 80s, Shinrin-yoku - also known as forest bathing - is widely used as a preventative health measure and a healing option in traditional Japanese medicine. Absorbing the forest atmosphere through the senses connects us to nature and allows our technology-ridden brains to slow down and reset. 
---