Lemon Curd Collagen Slice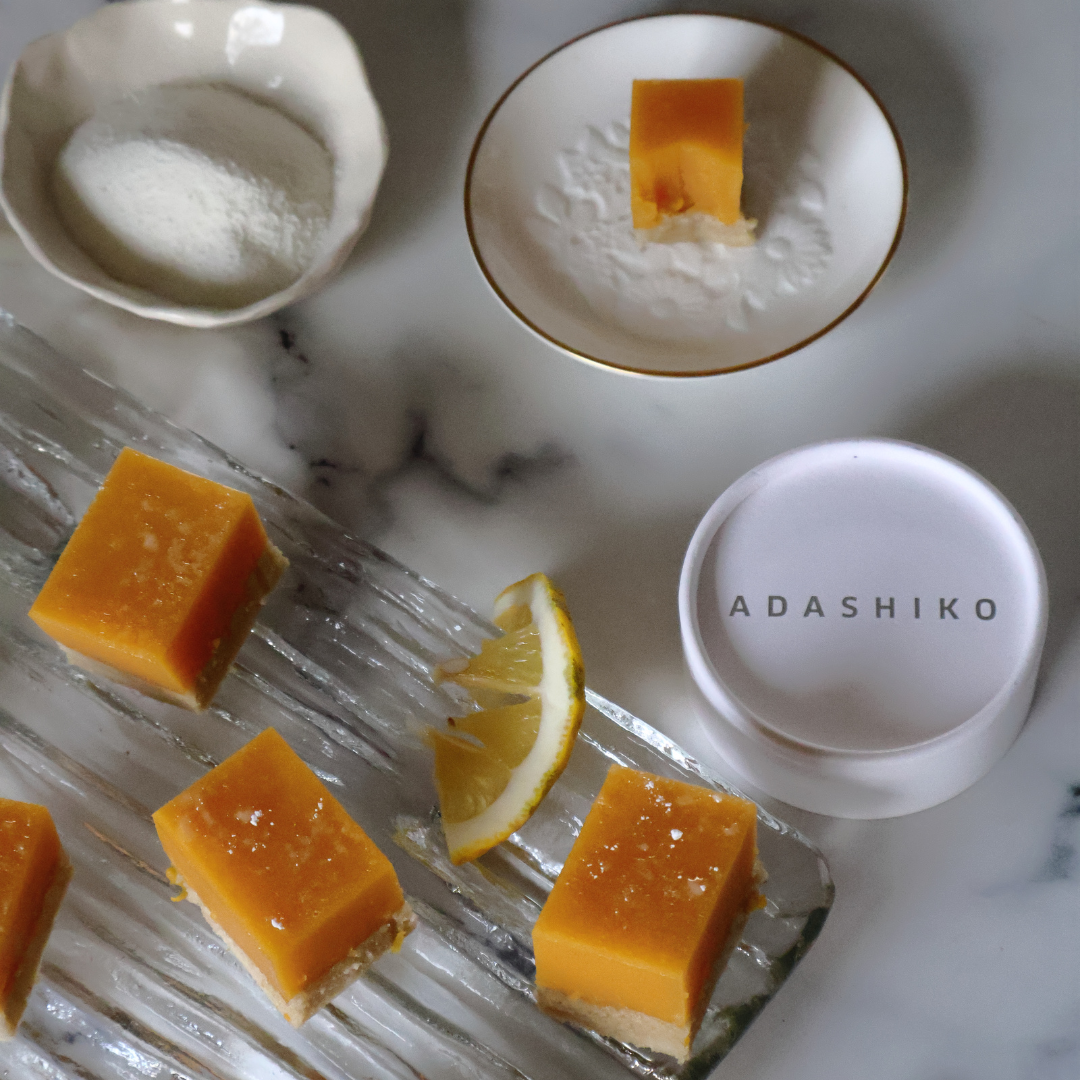 Lovingly infused with collagen, this tangy taste bud treat showcases the humble vitamin c-rich lemon, beautifully.
Our garden-to-table recipe creator, Ellen Larsen, has awakened our senses + served up a slice of zesty goodness that we can't get enough of. Ellen's Lemon Curd Collagen Slice is Low FODMAP friendly + is perfectly paired with a steaming cup of citrus tea to support digestion, boost immunity, provide an energy boost + increase skin-loving nourishment.
Prep Time:
10 mins
Cook Time:
12 mins
Total Time:
22 mins
Yields:
10 pieces
Ingredients:Base Layer
100g Almond Meal
20g Adashiko Pure Collagen Powder
3 TBSP melted Coconut Oil
1.5 TBSP Maple Syrup
¼ tsp ground Cardamom
Curd Jelly Layer
6 Egg Yolks
2 TBSP Gelatin Powder
⅔ C Lemon Juice
1 heaped TBSP Lemon Zest
4 TBSP Maple Syrup
70g melted Coconut Oil
¼ tsp Vanilla Bean Paste
Method:

To prepare the base
Line a standard loaf tin with baking or compostable cling film. Set aside.
Mix together dry ingredients with a fork until well combined.
Add the wet ingredients + stir until well incorporated.
Press the mixture into the base of the prepared tin. Cover + refrigerate whilst you make the topping.
To make the topping + finish
In a medium sized saucepan add the lemon juice + zest + mix gently. Sprinkle over the gelatin + leave for 2-3 minutes to bloom. This process happens quite quickly + should be jelly-like without any obvious moisture.
Pour over the rest of the ingredients + combine well.
Warm the saucepan over a medium heat, stirring constantly. Turn down to medium-low + stir consistently for 8-10 minutes until the mixture thickens + a curd is formed. The mixture should be smooth, silky + slightly thick - enough to coat the back of a spoon. This change will happen subtly - do not overcook.
Take off the heat + allow to cool to room temperature stirring occasionally to speed the process + avoid a skin forming.
Once cooled, pour over the base + refrigerate for at least 2 hours.
Lift out the slice + cut into 10 pieces with a hot knife. Sprinkle with a little icing sugar if you like. Store in the refrigerator in an airtight container for up to 5 days.
Notes:
1 slice contains 2g of Adashiko Pure Collagen Powder
Ellen Larsen is a garden-to-table, specialty diet + UGC content creator living with multiple chronic illnesses. She lives a quiet life in Auckland, spending as much time as possible in the garden, tending to her indoor plants, plotting new recipes, or finding new ways to be creative. You can discover her growing collection of achievable + tasty recipes over on her website, or join her on Instagram.
---