Collagen Cookie Dough Bites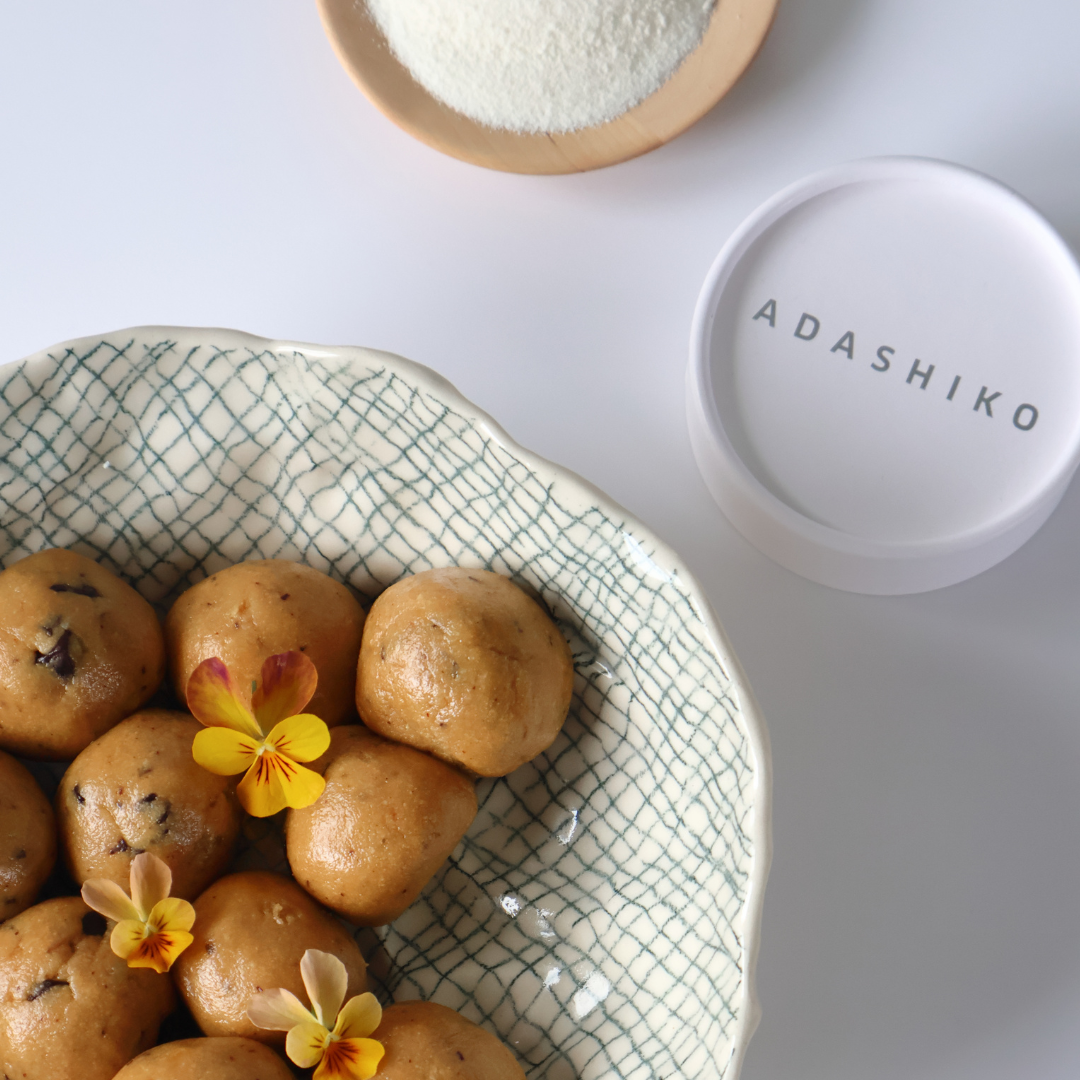 This moreish recipe by our garden-to-table recipe creator, Ellen Larsen, takes us back in time. We wonder if it will do the same for you?
Standing at the kitchen bench with mum. Propped up on a wonky wooden stool. Our little legs not long enough without it. Tiny fingers carefully measuring each ingredient. Flour flowing over the sides of the bowl. Chocolate chips a plenty. Sticky hands from rolling each ball, not quite precisely. But our fav part of making home-baked cookies? Sneaking little bites of the teasingly-irresistible cookie dough.
Ellen's take on these delish Cookie Dough Bites are lovingly enriched with collagen. And this time, you don't need to sneak a bite while mum turns her head.
Make a batch + see if you can stop snacking at just one. Here in the Adashiko kitchen, we absolutely can't.

Prep Time: 10 mins Total Time: 10 mins Yields: 12 cookie bites

Ingredients:
3/4 Cup almond meal
1/4 Cup Adashiko Pure Collagen Powder *
1/4 Cup smooth, no added salt peanut butter
1/4 Cup maple syrup
1/2 tsp vanilla paste / essence
20g dark chocolate, chopped
Method:
Cover a dinner plate with baking paper + set aside.
Place all ingredients together in a medium-sized mixing bowl + stir well until completely combined.
Roll Tablespoon sized pieces of dough into balls, + place on the baking paper covered plate.
Cover the plate with cling film + place in the fridge for at least 30 minutes to firm up.
Store in an airtight container in the refrigerator for up to 10 days... if they last that long!
Notes:
*note one serving does not give you your complete recommended daily dose of Adashiko Collagen
Ellen Larsen is a garden-to-table, specialty diet + UGC content creator living with multiple chronic illnesses. She lives a quiet life in Auckland, spending as much time as possible in the garden, tending to her indoor plants, plotting new recipes, or finding new ways to be creative. You can discover her growing collection of achievable + tasty recipes over on her website, or join her on Instagram.
---