Adashiko: Sustainable, kind + considered collagen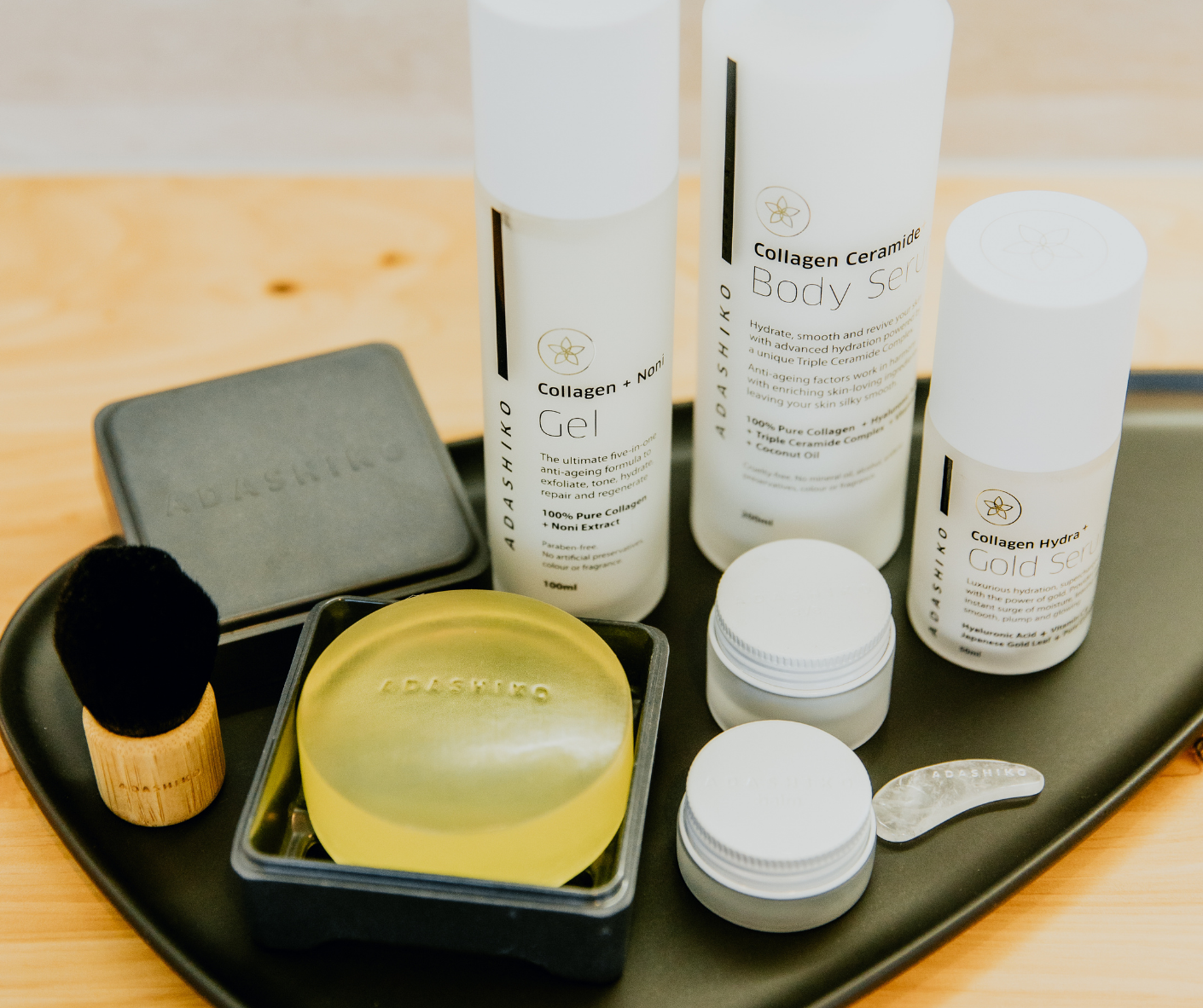 Here at Adashiko, being product, people + planet friendly is a responsibility we don't take lightly. But as always - we need to balance this with our commitment to producing the highest quality collagen powders + skincare. Friends of Adashiko have come to know + love us for sourcing the finest collagen in the world + growing a business where our ethos never waivers from a holistic approach to your health + beauty.
We, quite simply,  won't compromise on quality ~ ever.
It's always in the forefront of our minds of how we can do things better. And a commitment to understanding that better doesn't always mean perfect. We live in a word where, often, you're not just producing another product, but rather another plastic item. So it makes sense to us that we consistently look at all our processes to bring everything into an alignment + if we can do better, we absolutely will.
In 2018 we began navigating our way forward into more sustainable practices.
Testing prototypes + different types of materials that didn't compromise our products, people or the planet. We began this quest when we changed our plastic courier bags to compostable bags, along with cardboard for our online + stockist packaging. We now, proudly, use pop starch beans to protect our glass skincare packaging in orders. Pop starch is based on maize starch + it's sustainable, renewable, compostable + even dissolves in water (next time you receive an order from us, try this + tag us in your posts - we love showing people how the beans break down in H20).
We bid farewell to plastic with our collagen powders + skincare collection.
Removing the scoop you used to find inside our old-look collagen powder tubs was initially met with mixed-reaction. But it was a simple solution to reduce our plastic waste. Instead Friends of Adashiko now happily use their own Standard Tablespoon to get their full recommended daily intake of collagen (5g). Our tubs are recyclable + biodegradable - made of a food grade paper pulp ~ after you've finished your collagen powder your tub can be recycled, put in the compost + it will biodegrade. 
Our coveted collagen skincare collection also stands beautifully on your bathroom shelf in protective matte glass. Aesthetically pleasing, but also more sustainable, considered + kinder to Mother Earth. But in the interests of always being open + honest with our customers, we foresee there may be times when new additions to our skincare collection may be compromised if packaged in glass. If this happens, we'll hand-on-Adashiko-heart let you know about the packaging we've chosen + why. As we've touched on above, we're committed to reducing our plastic waste but we've also got a responsibility not to compromise our products.
The best of all, and a Friends of Adashiko go-to?
Did you know our Collagen Cleanse Kit is 100% Plastic Free?
Beginning with the Collagen Cleanse itself - this lavish cleansing bar arrives inside a recyclable box. Ready to be homed in our unique Cleanse Case ~ made from cornstarch + bamboo, it's not only super durable but is fully compostable at home, or commercially. And finally, as a true elevation to your cleanse experience ~ our Kabuki Brush has silky soft bristles composed of plant-based polymer fibres with a bamboo handle that's 100% biodegradable.
Friends of Adashiko often share with us that there's nothing quite like our Cleanse Kit to effortlessly dissolve away impurities, remove makeup + brighten your skin.
Adashiko is conscious about our impact on the environment.
We're deeply committed to developing collagen powders + skincare that are sustainable, kind + considered for both people + the planet. The only impact we want to make is a positive one. 
Keeping you + the planet beautiful.
Yours in health + beauty,
Luci | Adashiko
---