Adashiko Interviews: Simone Anderson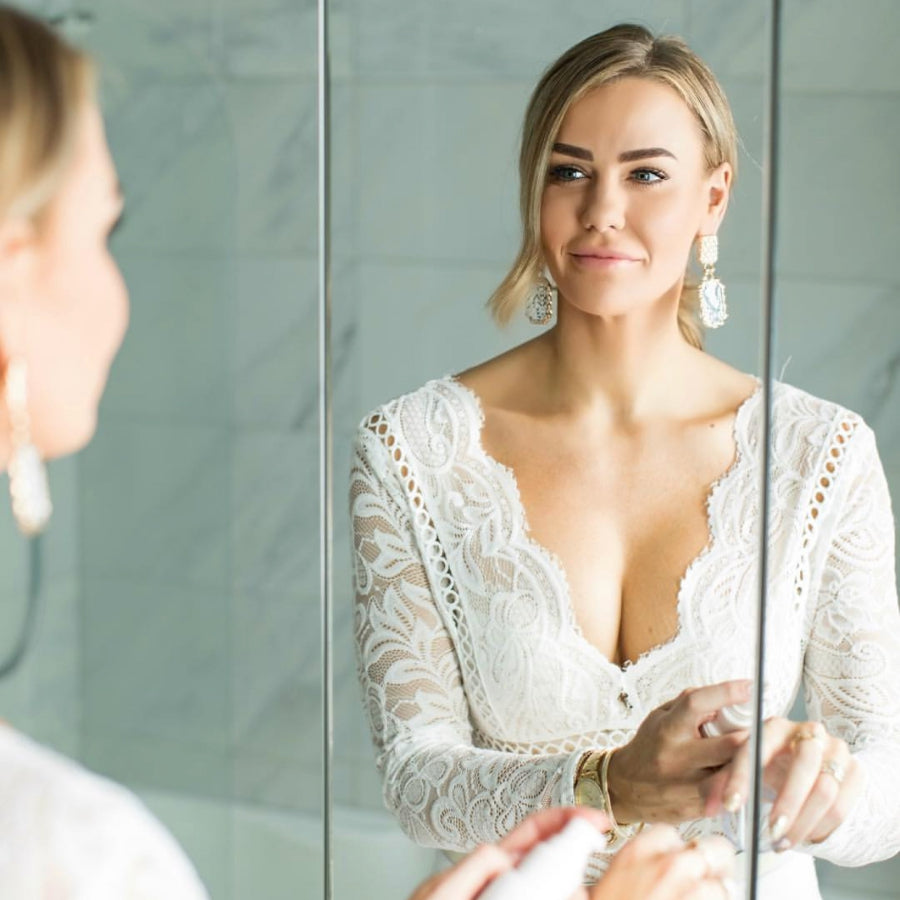 After losing 92kg in twelve months (and documenting her journey online), Simone Anderson's online following grew immensely, with women and men all over the world looking to her for inspiration. Fast forward five years - and two major skin removal surgeries later - and Simone is still sharing her health journey with her loyal following.

Despite being in the spotlight, Simone remains humble and down to earth, spending much of her time interacting with her followers and replying to countless messages. We sat down with the gorgeous Simone to find out more about her incredible achievements.
Tell us a little bit about how your journey to health got started.
It started when I was 23 years old. I really was at a dead end in life in terms of my weight, I couldn't hide it anymore, and I knew I needed to make changes. I didn't know how I was going to do this but knew something needed to be done. Walking up the driveway was difficult, and even getting through the day was really hard.
I was working in the office of a commercial jeweller at the time, and I remember sitting at my desk in my lunch break thinking "how do I go about this?". Every household scale I got on said "error", so I didn't know what I weighed. I decided to step on the commercial jewellery scale and I found out my weight which was a huge triggering moment for me. I knew I had to do this and had to make a change. 
After bawling my eyes out in the lunch room, I ended up deciding to share my journey on social media. The times I had been successful with any weight loss progress I had told lots of people and was the most accountable - it's a really good way to do it. So I started my Facebook page and began sharing motivating quotes, recipes I made or had found online and credited, and I started walking and swimming. All the positive feedback online motivated me to do more; people were so supportive and encouraging.
What are some of the key things you have you learnt throughout your journey? 
Probably the number one thing I've learnt is just how capable, strong-minded and strong-willed I am. I truly can achieve whatever I set my mind to financially, career-wise, personally etc. - my only barrier is actually myself. Once I get past that point mentally, I can achieve anything. I find this so motivating.
I also learnt how incredibly supportive my friends, family, and community are. I found it really humbling to discover how willing to help and support they all are.
What does an average day in the life of Simone look like?
What I love is that no "average day" is average or the same - I'll have twenty different things hit me all at once, and I'll just have to run with them! It pushes me out of my comfort zone. I try and get in one workout session a day; then I have meetings which are quite sporadic, I create content daily - recipes, photos, Insta stories etc.
I usually attend an event - or three. It can be tricky timewise juggling everything. I also reply to emails, messages, and comments, which can take me up to six hours a day. The work doesn't stop, but because it doesn't feel like work, it's fantastic.
We see you making all sorts of beautiful food on your social media channels. What's your absolute favourite thing to eat? 
My all-time favourite dish is Vietnamese summer rolls - they're so fresh and easy. You can use leftover veggies, and I always have peanut butter and soy sauce on hand for a dip. They're a crowd favourite, and I love showing friends how to make them using fresh, seasonal ingredients. They're my favourite, by far.
We're fortunate to have you as one of our Adashiko ambassadors. What benefits have you noticed since you started taking Adashiko?
I could go on and on and on... Adashiko is the one product I recommend if people ask me what I do for my skin and health etc. - it has been a game changer for me.
I've had huge surgeries, and the most incredible change I've seen is in my scarring and healing, and if I can see it working externally, I can only imagine what it's doing internally. 
I also now have a whole new fringe of hair growth! It's hilarious, I need to have can of hairspray on me at all times, but I love it and wouldn't change it. My nails have never been stronger; they never break anymore. On a daily basis, I constantly get told my skin is amazing, and I've changed nothing else in my regime since starting Adashiko.
How do you like to take your Adashiko?
I have mine in a big glass of water; it's the first thing I do in the morning. I chug it back, and it's one glass of water towards my daily intake. Occasionally I'll put it in my coffee or smoothie; it's super versatile.
The number one thing that makes it so easy is that it's completely tasteless which is huge for me. Other collagen powders I've used in the past have made me gag, and I've struggled to get them down. I love that I can put Adashiko into anything.
You lead a super busy lifestyle. How do you maintain balance?
I must admit that right now I'm not 100% great at that - I'm trying to put some balance back in my life because I've let slip recently. Some people would call it meditation, but I still make sure that at least twice a day I take five minutes to sit with my thoughts and recentre my energy. No matter how busy I am, I try to find that time to relax and re-energise.
What advice would you give someone who wants to embark on a weight loss/health journey?
My number one piece of advice would be to work on yourself from a mental point of view. Tackle any big life change, be it personal, or a new job etc. from the point of really loving yourself into the new position. If you come from a place of self-hatred you're not going to go nearly as far, and if you get there you won't be happy. Make sure you're in a good headspace first.
---