Adashiko Interviews: Naomi Eunson PT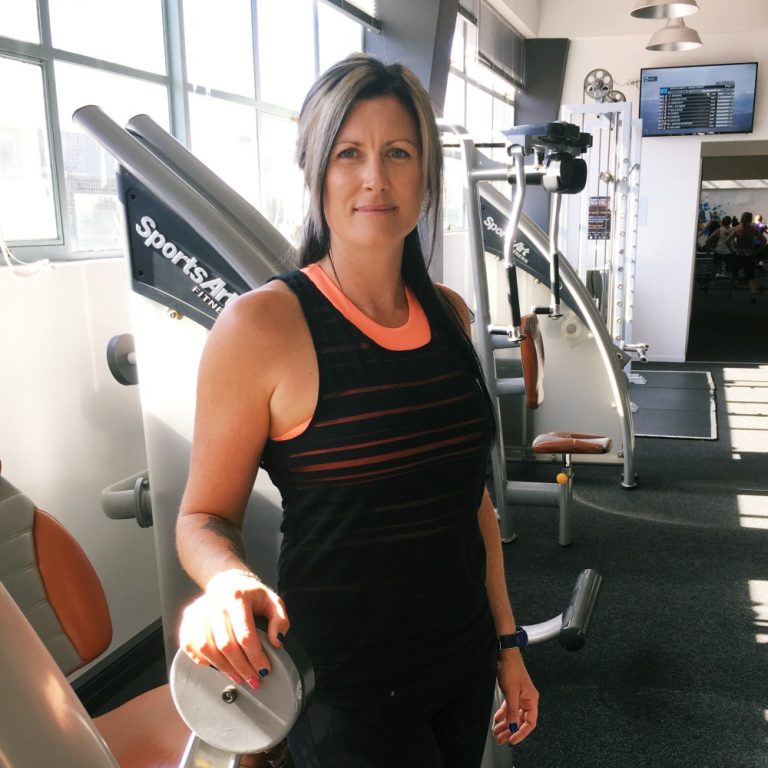 We sat down with Luci's energetic and inspiring personal trainer Naomi Eunson to talk all things exercise and health. Did we mention she's all about chocolatey breakfasts?
Tell us a typical day in your life.
Every day for me is awesome, as I get to share the journeys of so many amazingly strong and beautiful women as they start to gain the skills and confidence to be the best versions of themselves! I generally run one or two boot camps every day that specialise in female health and well-being.
I also see anywhere between three to eight one-on-one personal training clients per day, where I give my undivided attention, support and encouragement to help them get the most out of their training sessions. When I'm finished with my clients, I then do my own workout before picking up my two children aged nine and seven from school.
I then either spend the afternoon at their after school sports, or I head back to work for more boot camps and clients. I train clients at local parks, their homes or at the gym, which does mean a lot of running around and organisation.
I always end my day by sitting down with my diary and working out when my meal breaks will be, when I'll train, and what I'll do the next day. I find this helps me to keep focused and organised. I also prep lunch for myself and the children for the following day. After all that, I like to unwind by reading a book before getting some much-needed sleep.
What's your favourite way to take your Adashiko?
I love starting my day with a huge superfood smoothie, adding in my daily serve of Adashiko Ultra. I use a mixture of seasonal fruits, kale, spinach, cucumber, parsley, avocado, chia seeds, LSA, Adashiko Ultra Collagen, and blend it all with coconut water.  It provides me with protein, carbohydrates, good fats, electrolytes, and fibre, but doesn't leave me feeling bloated or lethargic.
What benefits have you noticed since taking Adashiko?
The first thing I noticed was a complete reduction in muscle soreness, no matter how hard I trained. My nails are so strong and are growing like crazy along with my hair. I also use the Collagen & Noni Gel and have had no pimples or breakouts for months, except when I ran out of my gel for about three weeks over Christmas!
How do you stay on track with healthy eating when you're busy?
Maintaining healthy eating patterns can be difficult when leading such a busy life. For me, the easiest way to stick to my normal eating habits is to look ahead in my diary and prepare for the week ahead. Then I plan out dinners that are going to fit best for each night, or I prepare extra meals and save the leftovers for the next night when I know that I'm not going to have any time to cook. I also make my breakfast, snacks, and lunch the night before, while also making the children's lunches. My mantra is 'fail to plan, plan to fail".
As I always tell my clients, why do we take the time to prepare healthy and nutritious lunch boxes for our children, but not for ourselves? Are our needs not as important? One other is to always have healthy snacks in your handbag and car, like raw nuts, to stop you from running into the nearest bakery every time you're on the go and hungry.
What's your favourite exercise/workout?
I love to train legs, as I love working with bigger muscle groups. There are so many exercises out there – and a lot of fancy equipment – but I prefer to stick to a lot of variations of the squat and lunge, with some added weight and then some sets body weight only. I like to change my rep ranges throughout the workout, keeping some exercises in the lower rep range and then working up to higher reps like 50 plus.
Throughout my workout, I will break up the weighted or resistance exercises with some form of explosive cardio, like burpees, bounding squats, jump ups, mountain climbers, or jumping lunges etc. This will increase the heart rate and turn your resistance workout into a killer cardiovascular workout, and burn a whole lot of calories too!
What are your top tips for staying fit and motivated through the year?
Sometimes trying to maintain an exercise program can be really hard, and you'll find you go through stages when you're highly motivated, and then stages when you just cant be bothered. I look at exercise as preventative medicine. There's a great quote I love: "The absence of disease does not mean the presence of health", and it's very true. I suggest that you focus on how great you feel after each workout, and the feelings of success and accomplishment that come with each completed exercise session, be it a small or big one.
If you have children, go out and do family activities together that involve exercises, like bush walking, or bike riding. Then you're setting a great example for your children while spending quality time together. And the most important thing that I can't stress enough; don't over commit to an exercise program as you'll find it harder to keep up with the pressure you've created for yourself. Rather set yourself an achievable goal, like 3-4 days of activity per week. This way it'll be easier to achieve and if you do end up doing more, it's just a bonus.
RECIPE: Chocolate Breakfast Mousse
After getting home from a big workout the other day, I just like something different from my usual green smoothie. So I came up with this beautifully chocolatey breakfast that still incorporates many of the same ingredients that I use in my smoothies. You can make it in five minutes, no setting time required. Best eaten immediately.
Ingredients
1 medium banana, peeled
1 medium avocado, halved and flesh scooped out
2 tsp cacao powder
1 tsp maple syrup
1 tsp LSA
1 tsp ground chia seeds
1 serving of Adashiko Collagen
1/3 cup fresh or frozen (defrosted) blueberries and raspberries
1 Tbsp. shaved almonds
Method
In a small food processor, place all the ingredients, except for the berries and shaved almonds. Process until smooth (you may have to scrape down the sides once or twice). When smooth, transfer to a small bowl, and top with the fresh or defrosted berries and shaved almonds.
Enjoy!
Visit Naomi's website and Facebook page for more information on her amazing services.
---