3 Skincare Tips for Hydrated + Glowing Skin this Autumn + Winter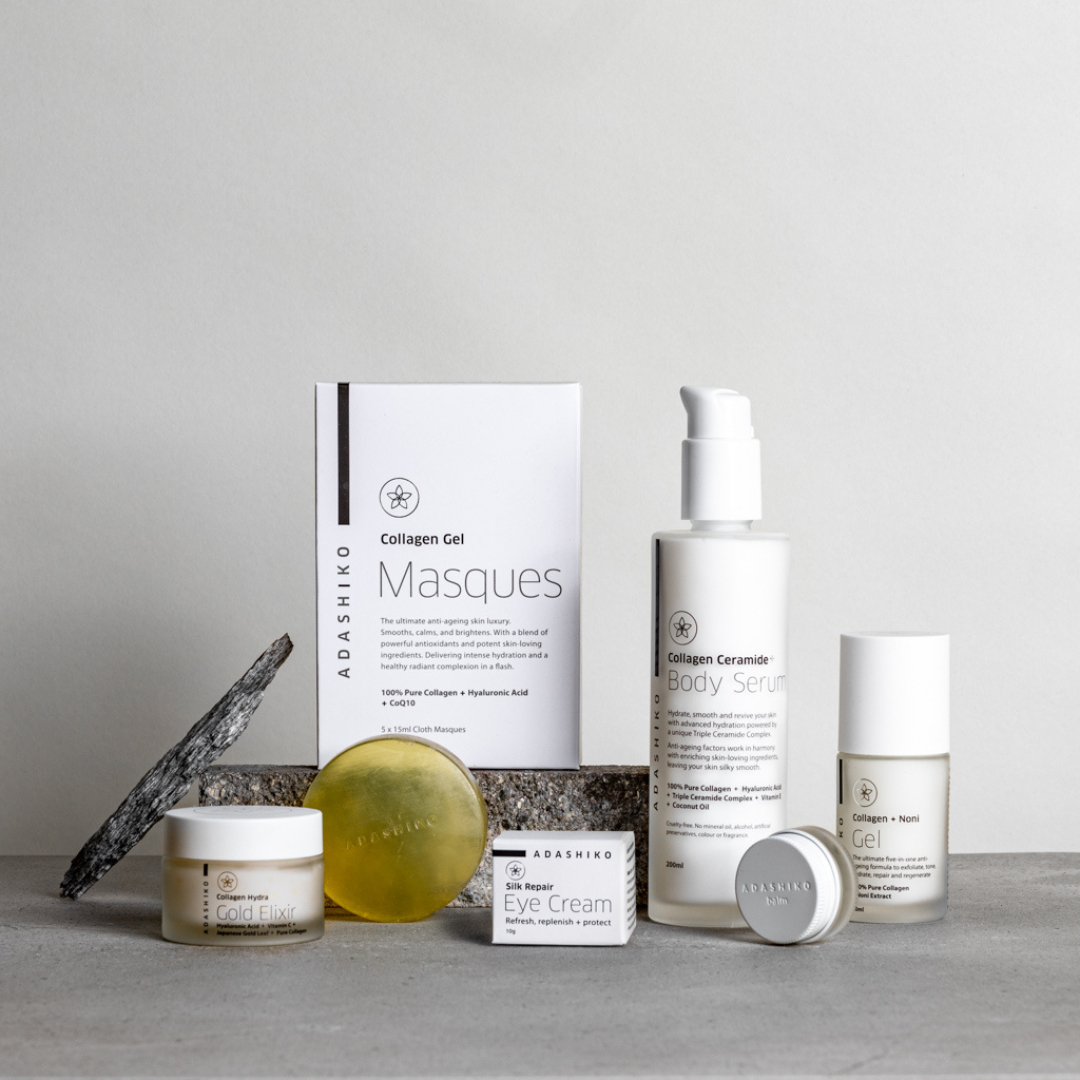 As the seasons roll around once again, it's time to start thinking about the changes you might need to make to your autumn + winter skincare rituals.
If your skin has been feeling a little dull + dry lately, you're not alone. As the heat cools down outside + we turn it up inside our skin starts to feel the impact of chilly outdoor temps, harsh winds + dry indoor air from heaters + aircon.
Here's our Top 3 Skincare tips for keeping your skin hydrated + glowing this autumn + winter.
Beautiful skin from the inside out.
Hydration throughout the seasons is important ~  especially during the cooler months. But we know it's harder to maintain your water intake when it's freezing outside. Switch to warming drinks like herbal teas, bone broth, winter-elixirs + warm lemon water.
Warm lemon water with a touch of honey is a beautiful way to start your day + get a quick Vitamin C boost.
Want to take your daily dose of wellness from within to a new level? Consider switching to either our Ultra or Joint Collagen Powders. Both formulas contain the same 100% Pure Peptide Collagen as our Pure formula but have added Hyaluronic Acid, which binds to water for optimal hydration levels in the skin + increased lubrication for all moveable parts of the body.
Not sure what collagen powder is right for you? Take a look here.
And don't forget about the skin hydrating goodness of essential fatty acids ~ your skin will thank you for adding foods like almonds, avocados + salmon to your weekly menu.
Check the labels on your skincare products.
It's easy to get caught up in the next new thing or be driven by price, a beautifully designed logo + catchy tagline. But what matters most when it comes to skincare ~ is that it works for your skin, not against it + is free from nasty chemicals + unnecessary ingredients. 
So please. Take a moment to not only read + understand your skincare labels but check they're not expired. Skincare containing alcohol, unwanted chemicals +  filler ingredients or past its expiry date can dry out your skin.
3 firm favourites for Friends of Adashiko?
Collagen Cleanse ~Awash with Pure Peptide Marine Collagen, Hyaluronic Acid, CoQ10 + Liquorice Extract. Collagen Cleanse lathers, effortlessly, to dissolve impurities, remove makeup + hydrate + brighten your skin.
Collagen Balm ~ It's a staple in both handbags + homes. Pure Peptide Marine Collagen, Hydrolysed Silk, Avocado + Coconut Oil + Beeswax not only nourishes, hydrates + repairs dry lips but sees to burns, scars, dry patches, wind burn + parched skin.
Collagen + Noni Gel ~ Pure Peptide Marine Collagen, Noni Extract, Hyaluronate Sodium, Allantoin + Avocado Oil beautifully blend to create the ultimate 5-in-1 anti-ageing formula to exfoliate, tone, hydrate, repair + regenerate.
Nourish your skin after showering or bathing.
We know it's tempting to turn up the temperature + soak a little longer in the shower, bath or spa during the cooler months, but hot water can deplete the skin of its moisture. Instead use a more moderate + gentle temperature for shorter periods of time. 
If you can't resist the lure of the soak + soothe (we love this too) ~ make sure you follow through with adding extra hydration to your skin straight away. Our top 3 Skincare Saviours?
Collagen Ceramide+ Body Serum ~ Treat your skin with an advanced blend of skin-loving, nourishing ingredients that penetrate deeply for 72 hours of hydration, even after showering.
Collagen Hydra+ Gold Serum ~ Our advanced skin-loving elixir.  Supercharged with the power of Gold.  Providing an instant surge of moisture for dry + dehydrated skin. Leaving your skin smooth, plump + radiant.
Collagen Gel Cloth Masques ~ Intense hydration + glowing skin in a flash (while taking time to self). Our cloth masques smooth, calm + brighten your complexion with a blend of antioxidants + potent skin-loving ingredients.
---